HomeSchooling First Grade Edition
So we finished Desmond's Kindergarten year at the end of April. The books we ended up using changed some through the year as we figured out what worked for us and what didn't. Math changed completely in January or so, Reading stayed the same, Science worked out okay, though we didn't get as much done as planned, and History ended up mainly being a pre-history study. All in all it was a good year. I was planning on starting First Grade at the beginning of June, but then decided to wait till he went on ADHD med, then decided to start mid-June because his medication appointment ended up needing a followup before he goes on meds, which doesn't happen until tomorrow and 2 1/2 months of no school just seemed like way too much time off. So we started mid-June. He is doing okay so far, and we haven't fully ramped up, I am waiting for the meds before we do that, but we are doing Math, Reading and History, and will be adding Science and Spelling in by the end of the month.
Here he is writing a sentence this morning during Reading/Language Arts: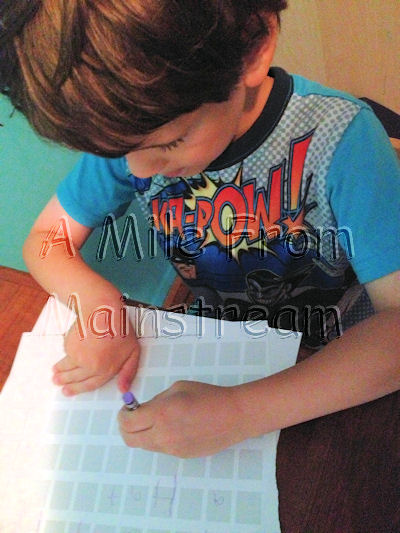 Anyways here is our planned schedule for this year. It likely will change some, but it is our plan.
For Reading and Language Arts we are sticking with All About Reading, the plan is to get through level 2 and start level 3 this year. He will also be doing All about Spelling, likely levels 1 and 2. We'll be sticking with Handwriting Without Tears for writing, since that is what his OT uses and it is working. I have not decided on what we'll use for grammar, we may just wait another year before starting it. We'll also be reading anything that interests us, plus various books relating to our history and science studies.
For Math we're going to use Life of Fred. We actually started the elementary series in January. We are currently on book 3. We may decide at some point to switch to something else, but at the moment the books are working wonderfully for Desmond and he is enjoying Math.
Here he is looking at his Math book today: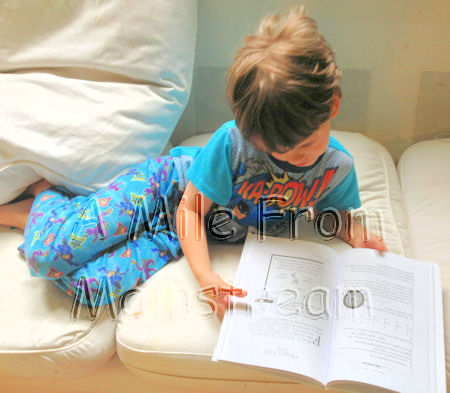 For History we are doing Story of the World Volume One: Ancient Times. I've bought some books to go along with our history plus we have a great public library where I can check out a bunch of other books as needed and wanted. We have a great library.
For Science we're going to try Intellego Unit Studies. We're starting with Astronomy, and then likely going to work on Living things, Plants and Animal. It might change depending on what Desmond is interested in doing though. I feel that exploring the world and figuring out how things work is really the most important part of science in the early years.
We'll also be doing art, we get Kiwi Crates monthly, and both Eloise and Desmond enjoy doing them. Plus he has been interested in making paper airplanes and origami. He may also work on painting some D&D miniatures, which will be great for his fine motor control and make them more interesting then the plain white plastic they are now.
There is a lot of other things that we will be doing such as vising museums, the zoo, the aquarium, farms, and anything else that catches our interest, playing with friends, going to Hebrew school, playing iPad aps and exploring and learning through life.
It is going to be a fun school year.